Hello all, just like everything me, this Christmas post comes a few days late.  Instead of apologizing I'll wish you every blessing you can receive now, during the season, and all year long.
It took a while to get into the feeling of Christmas.  I'll admit it happened when I saw our parish decorated for Christmas.  It is absolutely beautiful.  I didn't take a picture but am sure I can find one and post it later.  *Update: you can find the pics here:  OLG Christmas Pics
Once I got the spirit an alternative tree went up.  Since the whole Tamales family was coming over I didn't want to take up any extra floor space from the studio floor.  I ended up hanging a little one in the alcove of a window seat.  I'll remember this for next year since it worked perfectly.  You can't tell it but I decorated with Mexican tin ornaments and paper flowers in addition to the lights.
This little Christmas Countdown chalkboard sign went outside the front door:
Christmas Eve is when I get together just with my children and grandchildren.  It's really hard to get pics of the sons but I was able to get some with my daughter and her family.  This first is with my daughter Jessi.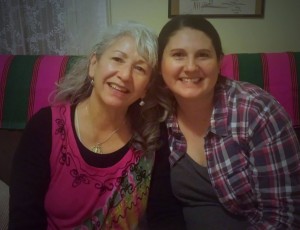 This is with my grandchildren Alizé, Bowen, and Kennedy.
After waking up to a power outage on Christmas morning I went to our beautiful mass then back home after to prepare for the family.  I ended up having 28 people at the house.  Tamales, bunuelos, turkey…too much food.
OK, this is getting long.  It's rare to take a pic with my Mom and brothers so this is my last pic: (L/R) Pete, Frank, me, Mom, Tom, and Paul.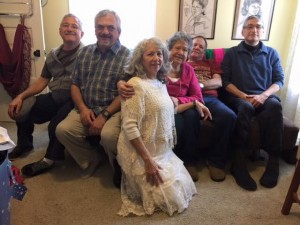 Oh wait, one more pic.  I bought this years ago from Lucy Synk at the Kansas City Ren-Fest.  It's called The Unseen Magi.
It reminds me to pray that all peoples and creatures always remember to honor our Lord Jesus, he whom we celebrate on this holiday.
Love and blessings to all!
~Zina
Please consider sharing if you liked this post. Thank you!