Heartland Bellydance Collective to Perform at Fiesta…
Zina's Salon is proud to present the Heartland Bellydance Collective at a performance for Our Lady of Guadalupe's Fiesta Mexicana in Topeka, Kansas.  The Heartland Bellydance Collective is comprised of Project Shimmy of Independence, MO;  Irie Tribal Dance Company and student troupe Irie Blue of Topeka;  Tabiba bint Ali of Lee's Summit, MO; and ATSTopeka, also of Topeka.
This special show will take place on Wednesday, July 13th, from 7:30 – 8:00 p.m. on the Fiesta Stage on the corner of Lake and Atchison Streets.  There is no cost to attend. More information about the Fiesta, including street construction detour information, can be found at:  http://www.olg-parish.org/fiesta/index.html.
Project Shimmy is an ATS® bellydance troupe in Independence, MO, under the direction of Susan Warner. Susan is a FCBD® sister studio and an Advanced Teacher in the dance format.
Cyndi Cyreigna Elliott is the owner/director of Irie Tribal Dance Company.  She also performs and teaches ATS® across the country and is a FCBD® sister studio.  Her studio is located in Auburn, Kansas.
Irie Blu is the Irie Tribal Dance Company's student troupe. Pictured from L-R are Tikva, Cyreigna, Linda, and Angela.
Tabiba bint Ali performs Cabaret style bellydance and will be performing a veil number.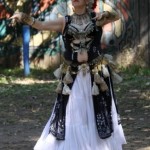 ATSTopeka is the performace side of Zina's Salon.  Zina teaches and performs  ATS®.  Zina is currently studying with Irie Tribal and will be performing as part of the Irie Blu student troupe.  Zina is also a FCBD® sister studio.
Please share the heat with us at Fiesta Mexicana; can't wait to see you!
~Zina
Please consider sharing if you liked this post. Thank you!