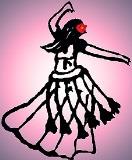 In virtually every social networking site, the question always gets asked…how did you decide on American Tribal Style (ATS) belly dance?  It's pretty simple for me but the answer gets a little longer because when I got interested, there was no ATS taught or performed in Topeka.  It could probably be honestly said there was no pure ATS in Kansas, either.  Yes, there were and are some wonderful Improvisational Tribal Style (ITS) dancers but no one from whom to learn ATS.
In comparison with others, my belly dance journey has been relatively short.  I started taking lessons in February 2007 from Huraiva Alimah, a wonderful teacher I studied with for over two years.  Huraiva teaches fundamentals through a sampling of various styles, including ITS.  It was through her encouragement that I started investigating different styles, predominantly through YouTube.  Although I loved dancing with Huraiva and my fellow students, something wasn't quite right for me.  Then, one day I stumbled upon a FatChanceBellyDance (FCBD) video that so instantly clicked for me I knew it was the style for me.
I soon learned the style is called ATS.  Through the FCBD website I started purchasing the instructional videos to teach myself.  As a member of the former Tara's Grace meet-up group, I found other dancers who also wanted to learn the style.  We started a weekly meet-up and watched the videos, trying our best to learn.  The group soon came to include a young beautiful soul from California – none other than Miss Tehani.  As groups tend to do, the Tara's Grace meet-up group drifted apart but Tehani and I continued meeting and practicing.
It was so exciting when we attended Masani Azura's Cirque du Beledi workshop in May of 2009 and performed our first public ATS duet.  What was most exciting was the dancers in the audience recognized the style and were very supportive.  As happens in life, Tehani moved to Detroit later that month leaving another dancer to become my partner – Miss Cyreigna.
In late May Cyreigna and I formed Topeka's first ATS troupe, Zi-Reigna Tribal Bellydance.  With Zi-Reigna we performed at many quality events such as the Aaron Douglas Art Fair, Washburn University Celebration of Cultures, Renaissance Festivals in Kansas City and Wichita, the State of Kansas' Celebration of Cultures and many, many other wonderful events.  These performances brought many compliments and established ATS as a recognized dance art form in Topeka.
Throughout this time I continued my belly dance education through lessons from Zada Al Gaziyeh in Lawrence and by attending the occasional workshop not limited to those by Troupe Duende, Tribal Sooz, Silvia Salamanca, and Princess Farhana.  Since I travel on behalf of my day job, I've been able to take drop-in classes in Wichita from Tribal Reflections and other Amira Dance Production instructors, in Chicago from Stephanie Barto of Read My Hips, and Sacramento from Amy Sigil of Unmata.  Lessons in-studio have been taken with Maya Zahira and Megha Gavin, either in-person or online.
Because of the lack of ATS teachers, ATS General Skills Training was essential.  Arriving in Bloomington, IN, in March of 2010 was so thrilling knowing I'd finally meet Carolena and Megha in person!  Earlier this year (2011), I continued my training by attending Teacher Training I and II at none other than the FCBD Studio in San Francisco.  It was like a pilgrimage!
These days, I'm again starting anew with new dancers and have made new friends through ATS.  My goal is still to be the best dancer I can be and have added an additional goals…give back to my friends by hosting an open studio for dancing and teaching ATS.
~Zina