OMG! Zina's Salon New Floor
Today, Saturday, March 8, Zina's Salon received a major facelift, albiet underfoot.  It's safe to say some of the subfloor, previously under very nice carpeting, was original since 1905, meaning it lived through the Great Flood of 1951 in Topeka.  To give you an idea, this is what the floor looked like:
With the help, well all the labor of Zina's Salon students Heather Wible and Ruth York, plus their hubbies Joe Wible and Carl York, and Joe's son Tyler, the new flooring was installed.
It was a long day that started before 9:00 a.m. with everyone energetic and excited; by noon we were ready for lunch, which is where Mom came to the forefront with home-made enchiladas.  In addition to the enchies, we stuffed ourselves with  chili con queso, salad, beans, chocolate cake topped with cherries, and Mexican pastries.  It was really nice when Tyler said he knew he'd now be disappointed at any Mexican restaurant after eating Mom's. 🙂
During the day we listened to music just in case anyone wanted to bust a move, which of course, Carl did.  After watching SNL's More Cowbell video, he started banging on a zil cause I don't have a cow bell. lol
Toward early evening everyone was dragging but everything got done.  Just a few touchups from me but the studio will be back in business this coming week.
Before the final reveal, some pics of the progress:
In case you wonder, the flooring is Pergo Coffee Hand Scraped Hickory from Home Depot.  Finally, two views of our new dance floor: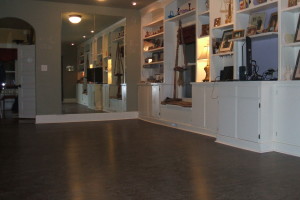 I cannot thank Heather, Joe, Ruth, Carl, Tyler, and my Mom for making this dream come true.  Many, many thanks from the bottom of my heart! xoxo
~Zina